The UN Water Conference on Water held in March 2023 (New York) brought together experts and stakeholders from various sectors to discuss the pressing challenges and opportunities facing water management. The conference featured the presence of PRIMA and its WEFE Nexus- related projects BONEX and MAGO, which showcased innovative solutions for sustainable water management in the Mediterranean region.
While a range of topics were covered, one theme that stood out during side events was the importance of adopting integrated approaches that consider the interconnections between water, energy, food, and the environment (WEFE nexus). Chrysi Laspidou, from the MAGO project (University of Thessaly – UTH); and Antonia Lorenzo, coordinator of the BONEX project (BIOAZUL), shed some light on their respective projects and the conference.
How does your project address the challenges of sustainable water management in the Mediterranean region, as part of a WEFE Nexus approach?
Antonia Lorenzo (BONEX): The Mediterranean Region is struggling to meet the increasing demand for food and water due to the declining availability of natural resources, exacerbated by climate change, population growth, urbanization, and environmental deterioration. In this context, BONEX's WEFE Nexus approach aims to manage and leverage synergies across sectors for efficient, integrated use of resources and generate economic, environmental, and societal benefits, by producing a WEFe Bridging Framework (WEFeF) and context-specific Nexus Bridging Plans (NBPs) tailored to innovative technologies and socioeconomic contexts, which will be developed through multi-actor processes with close collaboration of relevant actors, and provide policymakers with an interactive decision-making tool to evaluate nexus solutions in a transdisciplinary manner and create new business opportunities for SMEs in the Mediterranean Region.
Chrysi Laspidou (MAGO): Because "you can't improve what you can't measure", MAGO focuses on developing enhanced monitoring and modelling solutions for better water use efficiency and soil conservation for irrigation and food production. This way, we know where the Nexus hotspots are in terms of efficient water allocation for irrigation and food production and how much energy is needed, and we can then implement suitable solutions. MAGO also recognizes that people are at the core of sustainable water management, so it is user- and people-focused and develops solutions for better water governance and water use and a collaborative environment for stakeholders to interact and benefit from the applications developed in the project.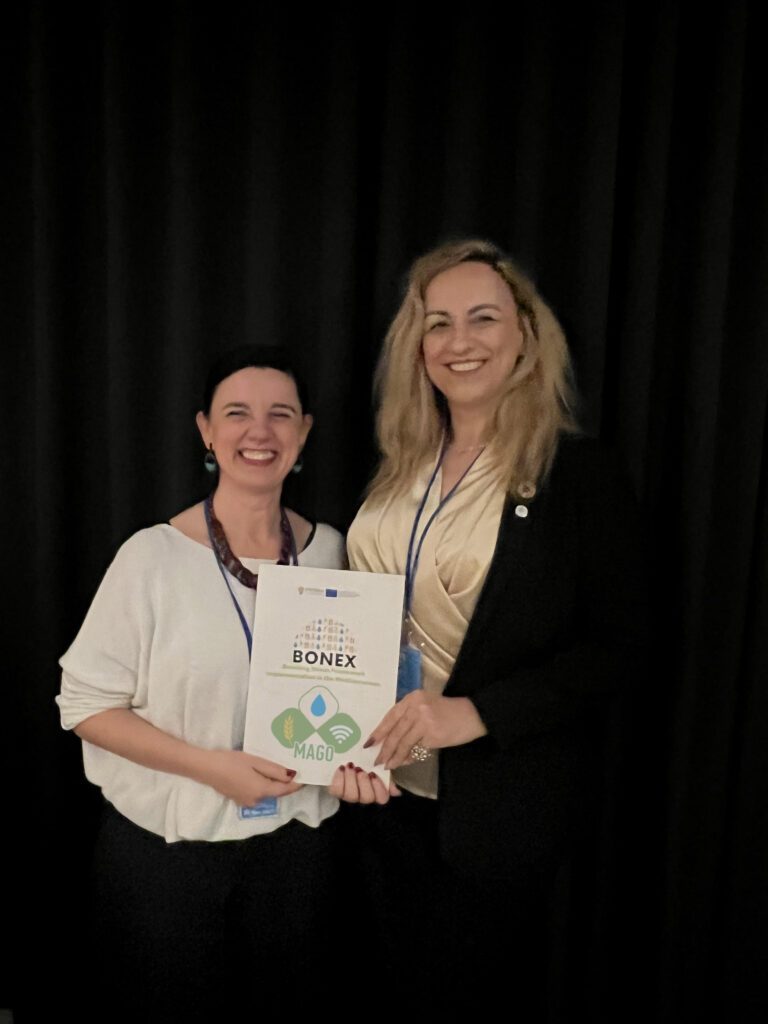 What are some of the innovative solutions or technologies that your project is developing or implementing?
Antonia Lorenzo: BONEX focuses on innovative solutions with short-medium term large potential impact in water scarce regions, requiring a WEFE nexus approach to provide evidence to potential customers and users on how their implementation contributes to the sustainability of agri-food systems and preservation of ecosystems, as illustrated by wastewater treatment's potential to reduce GHG emissions and energy consumption in water management, and the changing socioeconomic and technical environment's emphasis on reducing GHG emissions from food systems through increased water use efficiency and renewable energy sources. BONEX consortium SMEs have developed various innovative solutions including a WEFeF decision-making tool, an agro weather station, an Agrigen Solar Tracker system (Agrivoltaic greenhouse with net-positive energy production), natural systems to improve water quantity and quality, water conservation systems with NBS, direct use of PV energy for irrigation, a water accounting tool, a nutrient balance calculation tool, and desalination for irrigation.
Chrysi Laspidou: MAGO project is developing and implementing innovative solutions and technologies such as OPTIRRIG for irrigation control and optimization, MAGO Water Monitoring tool using remote sensing technology for evaluating water quality parameters from satellite images, and WEMED Online community which includes a Data and Algorithm Catalogue, a Software Development Lab and a Market Place presenting the solutions.
How do you envision the future of sustainable water management and WEFE Nexus in the Mediterranean region, and what role do you see your project playing in this future?
Antonia Lorenzo: The urgent need to address the impacts of climate change in the Mediterranean requires progress in sustainable water management and WEFE Nexus solutions, which must integrate improvements in governance structures and practices. Building resilient governance structures is crucial for balancing competing needs for water, energy, food, and ecosystem services. One criticism of the WEFE Nexus approach is that it can be seen as overly theoretical and lacking practical application. This criticism stems from the fact that the WEFE Nexus approach is a relatively new concept and has not yet been widely implemented on a large scale.
The practical implementation of WEFE Nexus approaches in seven Mediterranean countries through context-specific Nexus Bridging Plans will bridge the gap between theory and reality on the ground, allowing decision-makers to identify, implement, and evaluate local interventions to improve WEFE potentialities while ensuring public participation and multi-actor engagement.
Chrysi Laspidou: MAGO envisions a water management scheme that takes into account climate change and other associated socio-economic changes threatening the vulnerable populations even more and a scheme that is informed by robust modelling and recent open datasets (e.g. Copernicus data). It envisions efficient food production with advanced agricultural practices that use minimum water and energy and have minimal environmental impact. MAGO develops improved long-term adaptation plans for the demonstration sites, such as Climate Resilient Water Safety Plans, and operational solutions to enhance resilience to extreme climate events. Stakeholder engagement and co-creation processes in Living Lab settings promote user uptake of solutions and long-term impact.
What are the main take away messages you would like to express, post webinar?
Antonia Lorenzo: The focus of the event in which BONEX was participating was to emphasize the importance of sustainable water management and sanitation for achieving Climate Circularity and Resilience. BONEX's WEFE Nexus methodology and other innovations aim to move from a "silo approach" to an integrated and interconnected approach, utilizing alternative water sources, resource recovery, renewable energy, and energy savings to accelerate circular transition while preserving ecosystems. The interlinked approach of Water Energy Food and Ecosystem (WEFE) Nexus contributes to circularity and resilience of food systems. R&D and Innovation programs, such as H2020 ARSINOE and PRIMA BONEX and MAGO projects, support the development of holistic methods for deploying circular and smart solutions that address climate challenges and enhance resilience.
Chrysi Laspidou: "Collaboration and bottom-up approaches are key in achieving sustainable water management, better water governance and Nexus coherence. Smart technologies should be exploited and solutions should be co-designed in Living Labs to promote sustainable practices such as water reuse in agriculture. Policies are important tools to accelerate adoption of technologies and optimize resource use".
———-
Overall, the New York Water Conference provided a platform for fruitful discussions and exchange of ideas on water management strategies. The importance of adopting integrated approaches that consider the interconnections between water, energy, food, and the environment was a recurring theme throughout the conference, reflecting the growing recognition of the WEFE nexus. The presence of PRIMA and its projects, such as Bonex and MAGO PROJECT, further emphasized the need for collaborative efforts and innovative solutions to address today's complex water challenges. As the world faces increasing water stress and uncertainty, conferences like this serve as a crucial reminder of the urgent need to prioritize sustainable water management practices that can safeguard the well-being of both people and the planet.
 
 
MORE INFO:
·       BONEX project: https://bonex-prima.eu/
·       MAGO project: https://www.mago-prima.eu/
·       PRIMA WEFE Nexus approach: https://prima-med.org/what-we-do/nexus/
·       WEFE Nexus in the European Commission website: https://international-partnerships.ec.europa.eu/policies/climate-environment-and-energy/water-energy-food-ecosystem-nexus_en
·       Nexus Resource Platform: https://www.water-energy-food.org/
 
Thank you to Chrysi and Antonia for their fruitful contributions.
Special thank you to Rafael Casielles Restoy (R&D Senior Project Manager at Bioazul), Angela Magno Malagón (R&D Prroject Manager, director communication and marketing at Bioazul) and Amaryllis Zachariadou (UTH – communications manager of MAGO project) for their support in the elaboration of this article.